"As a child I wanted a piano and my parents bought me a guitar to satisfy me. I wanted to learn to play it, but I gave up practically immediately; I was too young to understand what I really wanted. I self-taught when I was eighteen and spent most of my days studying music. When I thought I couldn't do that in life, I started writing my first lyrics, to contradict myself."
This is how the young Feeda, Salerno-based singer-songwriter from the class of '98, introduces herself. A new discovery of the increasingly well-known newborn label 33db good noise (famous for having launched Totino Melillo's Vierno and Jeordie 20:00 single), the artist plays guitar and Ukulele and, for the first time, introduces herself to the public through a single that officially sanctions her musical career and her artistic skills.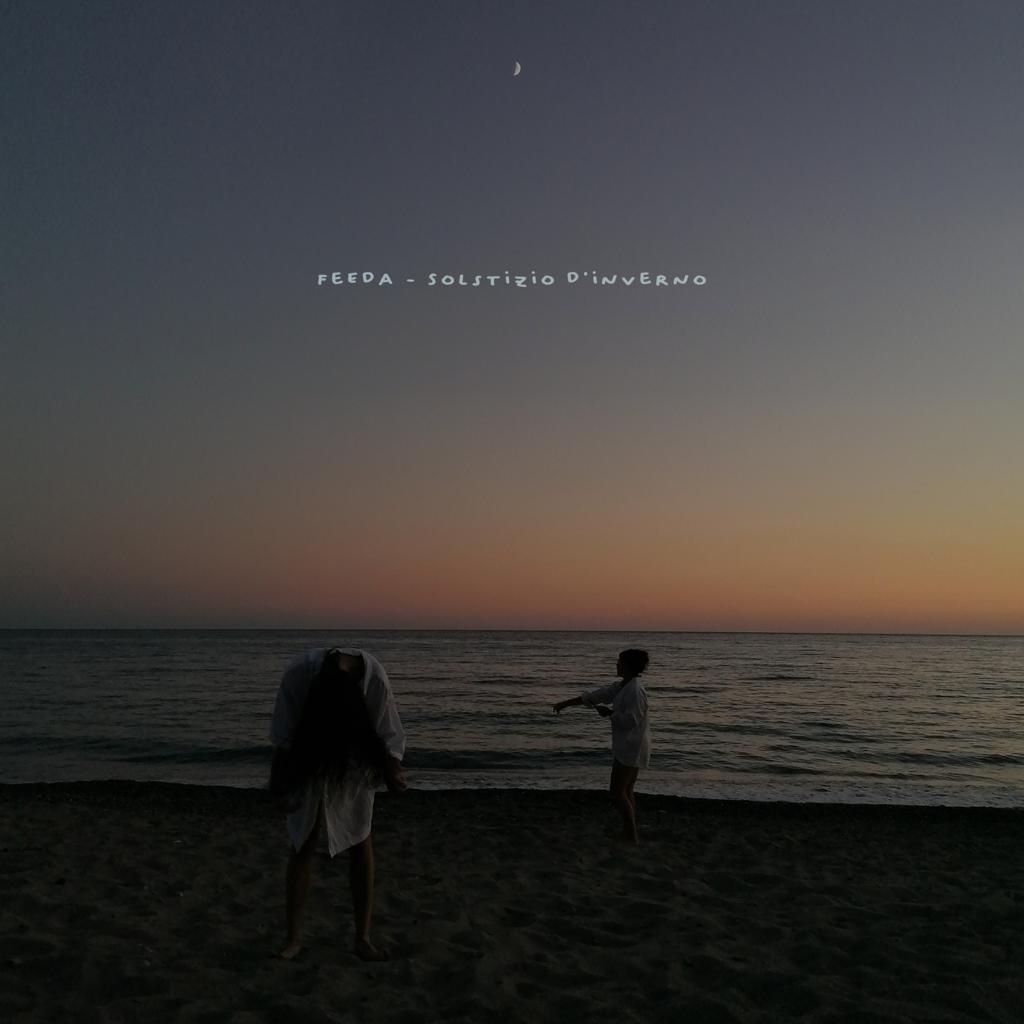 "Solstizio d'Iverno" litteraly Winter Solstice was written out of the blue on 21 December, the day on which the earth is furthest from the sun (winter solstice). The song, in which Feeda sings and plays the Ukulele, was born as a result of an outburst caused by the artist's inner unease in dealing with people.
The Winter Solstice in this case represents a state of mind, symbolising the inner unease that leads one to reflect on oneself in the midst of others. The song expresses the feeling of inadequacy in living in seemingly normal contexts while knowing oneself to be estranged from the world because of 'a winter always inside when it is blatantly summer outside'.

The video is minimalist, placing the artist, his melancholy and insecurities at the centre. The head becomes the location and the song are the introspective thoughts that lead her to alienate herself, to move away from the earth. In the video, the head changes in relation to her thoughts, just as the environment surrounding the artist (immobile in her place) changes during the song. A key aspect is the snow, highlighting the sudden arrival of winter.
"Solstizio d'Iverno" is a beautiful Indie-Pop track that will probably be part of a larger record project. Feeda, despite her young age and insecurities, has personality and charisma. The new track, available in the best digital stores, distinguishes her for innovation and talent.
Below I show you the collection of interviews and articles and all the radio promotion done for her thanks to my press office service.


Interviews
Blog della Musica
Radio Interview on Punto Radio Stereo – 23-06-2022
Radio Interview on Universal Radio – 25-06-2022
Articles
Napoli Magazine – IndieLife – Sound Good Webzine – Cronache Salerno – Uno Tv Web – EarOne Radio – Oltre le colonne – Noi ne parliamo – Nella Musica.net – ScatolePiene – Diffusioni Musicali – Il Riflettore – CherryPress – Atom Heart Magazine – Berg Press Eu – News ABC – Article Marketing Eu – Cryano Factory – Hype News
Radio
Radio 41, Radio Rete Centrale. Radio Antenna Musica, Onda Radio, Radio Studio A, Radio Neve Sound, Radio Andromeda, Radio Shamal, Radio Match 5, Bierredue Radio, Web Radio Station, Radio Ranciano, Radio Stella Città, Radio Erreci, Radio Arenzaro,White Radio, Stereo 98, Asd Opera d'arte Radio, Radio Delta 83, Radio Web Base, Talent Radio, Radiofonica Radio, Radio Fusion, Radio Rovigo, Hinondazioni, Ciao Como, Like Radio Music, Radio Blue Start, Radio Senise Centrale, Rt Radio Terapia, Radio Gattopardo, Radio Derby Web, RDL Cs radio, Radio RCC, Radio Primero, Radio Gamma No Stop.
Others
The song was included in Le Rane's 'Weekly' playlist on Spotify.
Reported among the singles of the week on AllMusic.
Song enters MEI's Indie Music Like chart for three weeks: week 1 , week 2 , week 3